Welcome back to the
Provincial Chrysler Dodge Jeep Ram
blog. We are proud to be the number 1 destination in Ontario for the Fiat Chrysler Automobiles family of brands. We are conveniently located in Windsor, and serve the great areas of
Windsor
,
Leamington
,
Amherstburg
, as well as the rest of the
Windsor/Essex Ontario
Area. We have a large stock of all new FCA vehicles on our lot, and also offer pre-owned vehicles for a wide range of makers.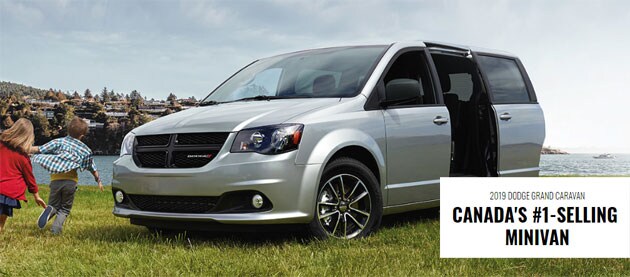 As
Dodge dealers Ontario
, we are passionate about bringing our customers information about the latest vehicles in the lineup. Today we're going to be talking about the phenomenal
2019 Dodge Grand Caravan
. This is the minivan that started it all – going way back to 1983 when the very first version was launched. The original
Grand Caravan
was indeed the very first
minivan
(as we know them today) ever made. Ever since then, this vehicle has been getting families wherever they needed to go in comfort and class. It has been
Canada's best selling minivan
ever since it hit the showrooms, that's 35 years now! As the single
most awarded minivan in Canadian
history, there were big shoes to fill for the 2019 model, but here at
Provincial Chrysler
we really think they've broken the mold once again.
Styling
This is definitely a recognizable vehicle, the
Grand Caravan
has a very distinctive profile in a world of pretty generic looking minivans. While the word 'sporty' isn't usually associated with the category, this is a minivan that really has critics praising its athleticism. From every angle, this is a good looking minivan. It features classic dodge styling, including the crosshair grille.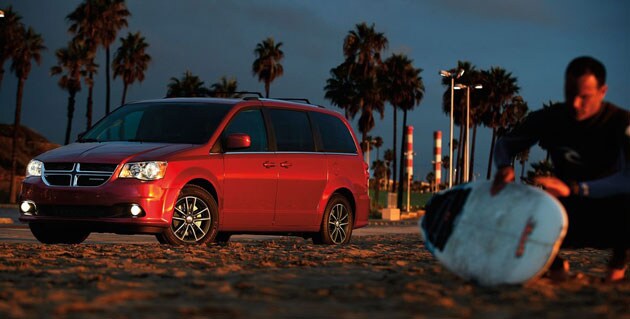 Any parent knows that dealing with a tailgate while wrangling kids and trying to load or unload groceries can be a real challenge, and
Dodge
rose to this challenge by including a power liftgate on the 2019 model. The liftgate can be operated from a button on the door, from the driver's console, or remotely from the key fob. There are also electric sliding doors, too. Much like the liftgate, the sliding doors also have a remote control option from the key fob.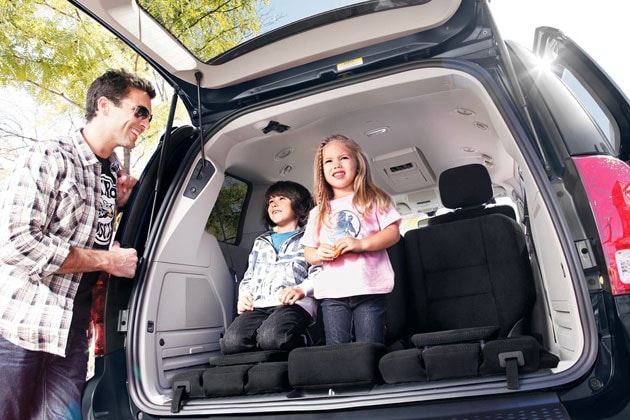 The 2019 Grand Caravan is available in six different color options and there's a range of wheel options too, including standard steel wheels, all the way up to sporty 17-inch aluminum rims. The aluminum rim options come in different finishes, too, with polished and even painted on the options list.
Interior
The
2019 Dodge Grand Caravan
boasts a beautifully designed interior cabin with the ergonomic layout and quality fixtures and fittings. No matter which of the eight seats you're occupying, you're sure to find it comfortable.
To enable the driver to keep a close eye on what's happening in the back rows,
Dodge
has equipped every
Grand Caravan
with a special observation mirror, in place to make checking on the kids safer – no more turning around to see what is happening!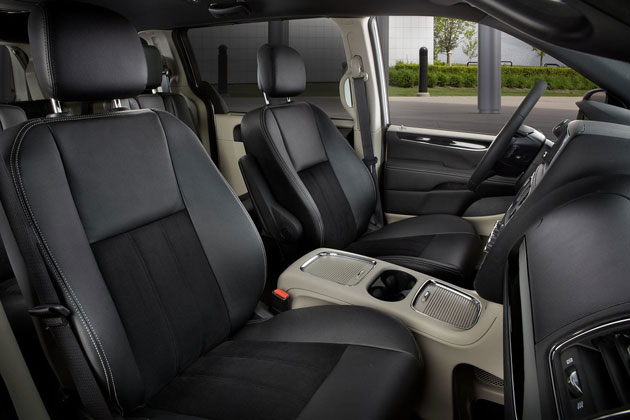 An available deep tint for the windows can assist in keeping temperatures down inside, and also helps with reducing damaging UV rays from entering the vehicle. Not only does it help with the climate, but the tinted windows also improve security by reducing the ability for any criminals to see from the outside in.

If you're looking to ensure that all passengers are as comfortable as possible, then you should definitely opt for a trim that features the 3 zone climate control – this is great for making sure everyone gets their preferred settings, no arguments means a happier road trip!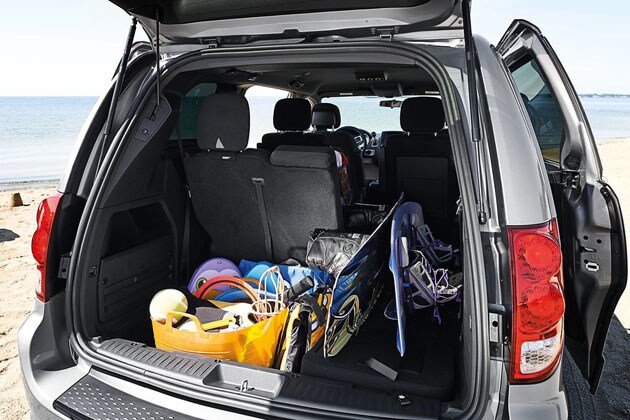 Small touches make the difference in the Dodge Grand Caravan for 2019 – Things like LED spotlights in all seating rows, and even illuminated cup holders, making it almost impossible to miss and spill your drink!

The great features keep coming with the
2019 Grand Caravan
, this model year sees the introduction of the available tailgate mode. When you're parked up you can flip the 60-40 third-row seats over and have them face backward, giving you the perfect spot to sit and join in with the event you're at.
Space
For 2019, the
Grand Caravan
continues the trend of spacious
Dodge minivans
. There are ingenious storage locations spread throughout, including the available super console which is a superb central location for small items, as well as other cubbies and compartments throughout the vehicle. If you're looking for great storage up top, then the available Stow n Place roof rack system makes it super easy to haul canoes, bicycles or other bulky gear on the roof, but also allows you to hide away the roof rack cross rail bars in between uses for better aerodynamic performance and reduced wind noise.

Infotainment
Tech really is at the heart of the 2019 Grand Caravan – there are some great options available, all centering around the 6.5-inch central touchscreen display.
Option 1 is radio 430, it comes with:
•
Sirius XM Satellite radio compatibility
Option 2 is radio 430 Nav which features all the great functions of radio 430, plus:
•
Garmin Satellite Navigation
•
Sirius XM Travel Link (with 5 years complementary service included)
The entertainment unit comes with a USB input that allows you to play your own music library through a phone or MP3 player through the stereo system, too.

Performance
This minivan is no slouch! It boasts an award-winning 3.6 liter V6 motor, putting out 283 horsepower and 260 lb-ft of torque. Not only is it practical and stylish, but it's also fun to drive, too! Big wins all around.

All this power and torque means you can actually towboats and even smaller RVs, so no need to swap for a truck – it boasts a towing capacity of 1500 lb and has onboard systems like trailer sway control to make the towing process even safer.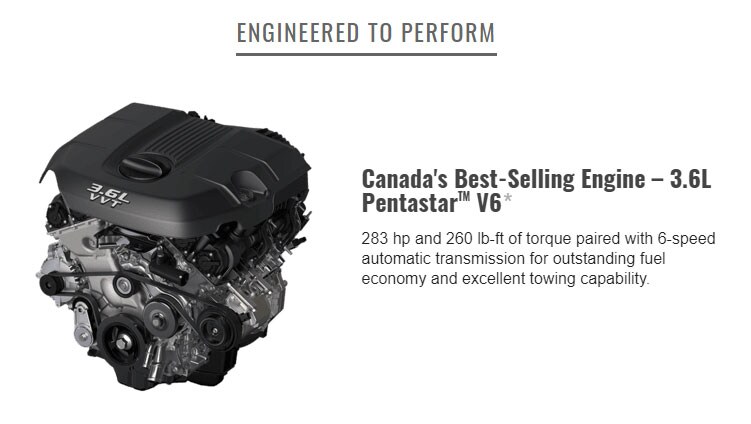 Helping you to tame all that power, this vehicle comes with all-speed traction control that monitors each wheel for loss of grip, if this is detected it cleverly redistributes power to keep you on the right track.

Power is delivered to the road by way of a reliable 6-speed automatic transmission.

Not only is the Grand Caravan powerful and fun to drive, but it also sips fuel very lightly. It's an efficient vehicle that boasts up to 30 miles per gallon highway and 21 miles per gallon in the city. Dodge Windsor can't recommend this minivan enough to families looking to save on their gas costs!
Safety
Minivans are aimed squarely at families, and of course, you only want the best for yours, and that's why Dodge equipped the Grand Caravan with some of the most advanced safety tech in the business.

Some of this standard and available equipment includes:
•
Active Front Head Restraints
•
Parkview Rear Back-Up Camera
•
Child Protection Door Locks
•
Blind Spot Monitoring

Trims
Variety is the spice of life, and you sure have some variety when it comes to the available choice of trims in the Dodge Grand Caravan line up. From basic to all-out luxury, there's a Grand Caravan for everyone:
Canada Value Package
SE Plus
SXT
SXT Plus
SXT Premium Plus
Blacktop
Crew
Crew Plus
GT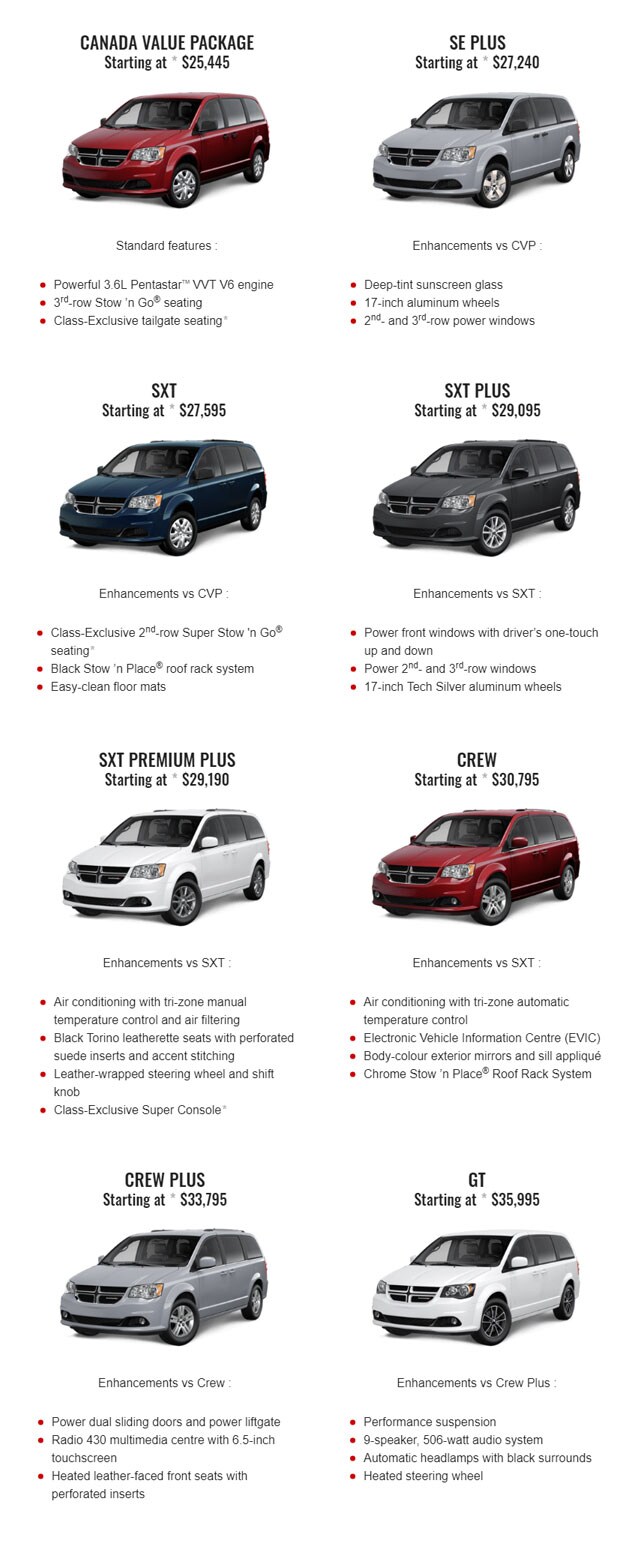 Provincial Chrysler Windsor provides these posts as a way of giving you the most up to date info about the newest cars, trucks, and minivans in our lineup. We really hope that this post about the new Dodge Grand Caravan was useful and that you're a step closer to coming in to see it in person! No matter whether you're looking for a well-appointed, but wallet-friendly base model, or something a little more opulent, we're sure that the Grand Caravan can fit the bill. Provincial Chrysler Dodge Windsor and their friendly sales team invite you to come down and see it for yourself. Call ahead or drop in for a test drive whenever you can, after all, it's the best way to get a real feel for this great minivan.

We also have a wonderful selection of used vehicles from Dodge too – so if you're still looking for a minivan, or even if you're looking for a Dodge Challenger for sale Ontario, chances are we have what you're looking for!

If you're looking for new or
used car dealerships in windsor
that can provide you with top-quality customer service and the best selection of vehicles on the lot, come see us at
Provincial Chrysler Dodge Jeep Ram
today!
2019 Dodge Grand Caravan SXT Plus
Price: $30,295.00
Bodystyle: Van
Int. Color: Black/Light Greystone
Engine: 3.6L Pentastar VVT V6
Odometer: 0
Transmission: 6-Speed Automatic
Stock #: 190650
Ext. Color: Billet Metallic
Vin: 2C4RDGBG7KR649415
CLICK FOR DETAILS
2019 Dodge Grand Caravan SXT Premium Plus
Price: Please Call
Bodystyle: Van
Int. Color: Black/Light Greystone
Engine: 3.6L Pentastar VVT V6
Odometer: 0
Transmission: 6-Speed Automatic
Stock #: 191412
Ext. Color: Billet Metallic
Vin: 2C4RDGBG3KR726748
CLICK FOR DETAILS
2019 Dodge Grand Caravan SXT Premium Plus Windsor Mini Van store
Price: $32,351.00
Bodystyle: Van
Int. Color: Black/Light Greystone
Engine: 3.6L Pentastar VVT V6
Odometer: 0
Transmission: 6-Speed Automatic
Stock #: 191092
Ext. Color: Brilliant Black Crystal
Vin: 2C4RDGBG1KR726750
CLICK FOR DETAILS
2019 Dodge Grand Caravan SXT Plus DEMO DEAL
Price: $33,161.00
Bodystyle: Van
Int. Color: Black/Light Greystone
Engine: 3.6L Pentastar VVT V6
Odometer: 0
Transmission: 6-Speed Automatic
Stock #: 190191D
Ext. Color: Bright White
Vin: 2C4RDGBG0KR573620
CLICK FOR DETAILS
2019 Dodge Grand Caravan Crew Plus
Price: $37,157.00
Bodystyle: Van
Int. Color: Black/Light Greystone
Engine: 3.6L Pentastar VVT V6
Odometer: 0
Transmission: 6-Speed Automatic
Stock #: 190366
Ext. Color: Brilliant Blk Crystal Prl
Vin: 2C4RDGDG2KR598659
CLICK FOR DETAILS
2019 Dodge Grand Caravan Braun Mobility Wheelchair Mini Van
Price: $61,250.00
Bodystyle: Minivan Braun Mobility
Int. Color: Black
Engine: 3.6L V6
Odometer: 25
Transmission: Automatic
Stock #: 190936
Ext. Color: Granite
Vin:
CLICK FOR DETAILS
2019 Dodge Grand Caravan GT
Price: $37,953.00
Bodystyle: Van
Int. Color: Black
Engine: 3.6L Pentastar VVT V6
Odometer: 0
Transmission: 6-Speed Automatic
Stock #: 190254
Ext. Color: Billet Metallic
Vin: 2C4RDGEG4KR573597
CLICK FOR DETAILS
2019 Dodge Grand Caravan Canada Value Package
Price: $25,878.00
Bodystyle: Van
Int. Color: Black/Light Greystone
Engine: 3.6L Pentastar VVT V6
Odometer: 0
Transmission: 6-Speed Automatic
Stock #: 190582
Ext. Color: Billet Metallic
Vin: 2C4RDGBG9KR642482
CLICK FOR DETAILS
2018 Dodge Grand Caravan Wheelchair Mini Van Rear Entry
Price: $45,770.00
Bodystyle: Minivan Braun Mobility
Int. Color: Black
Engine: 3.6L V6
Odometer: 31
Transmission: Automatic
Stock #: M18880
Ext. Color: Billet
Vin:
CLICK FOR DETAILS