The All New 2020 Jeep Gladiator Pickup Truck
Welcome back to the
Provincial Chrysler Jeep Dodge Ram
blog! We're thrilled you've joined us once again for another installment. We are proud to be the number one FCA North America Dealer in the
Windsor, Ontario
area, and the fact that we get to serve the wonderful people of
Tecumseh ON
,
Leamington ON
,
LaSalle ON
, and
Amherstburg ON
makes us even more proud.
Provincial Chrysler
carries one of the best selections of new and used Jeeps for sale in the region. As a
Jeep dealership in Ontario
, we always make sure that we have the latest and greatest models on our showroom floor, and we think you're going to love the vehicle we're focusing on today!
Drum roll, please! Ladies and gentlemen, it's finally here – that's right, the all-new,
2020 Jeep Gladiator Pickup Truck
! This truck was truly a case of you ask, Jeep listened; Jeep fans have been asking for a revival of this line of trucks for decades. Some of you may remember the original
Jeep Gladiator
SJ variant pickup that was in production from 1962 to 1988. Until now, that name was retired, but now it's back with a bang!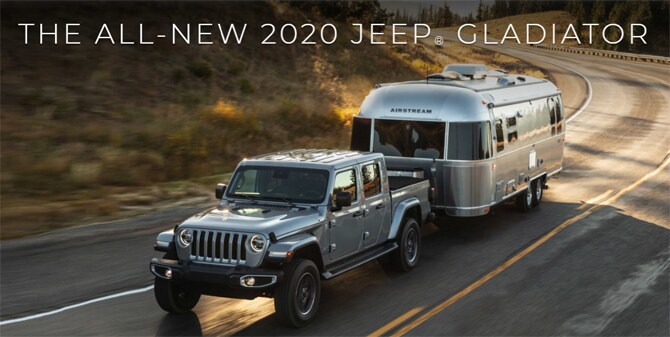 Utilizing the same off-road technology as the other members of the Jeep lineup, the 2020 Gladiator is not to be underestimated – it's a true, go anywhere, trail devouring beast, with incredible practicality thanks to the pickup flatbed.
This is truly a groundbreaking truck; it is the only open-air pickup in the industry, so, if you're looking for something unique, you should give this some serious consideration. As with Wrangler models, the
Jeep Gladiator
allows you to choose from the lightweight and easy on-off 3 piece Freedom Top hardtop roof, or the zipperless Sunrider soft top. The ability to remove the doors and fold down the windshield, too, creates a truck driving experience like no other.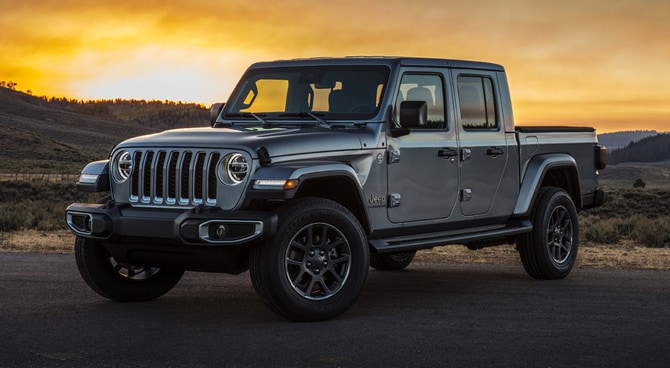 Jeep applied sound principles to the design and decided to base the 2020 Gladiator on the award-winning Jeep Wrangler, a tried and true design that traces its roots back to the original Willys Jeep from the 1940s. Those same design cues are font and center in the Gladiator, including some truly iconic Jeep traits like:
· The 7 Slot Grille
· Round Head Lights
· Trapezoidal Wheel Arches
· External Door and Hood Hinges
It only takes a quick glance at the
2020 Gladiator
for you to realize that it's a serious machine. All components are functional – you're getting standard, frame-mounted heavy-duty, forged steel front and rear tow hooks – an essential feature if you're looking to take your vehicle off the blacktop and on to the rough stuff.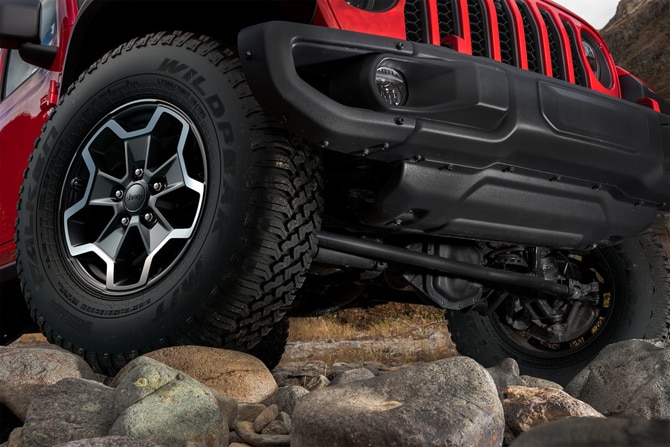 ?
The most obvious exterior feature of the 2020 Jeep Gladiator is the truck bed itself. This is a heavy-duty, all-steel bed that gives you exceptional cargo capacity, and is, in fact, the best in class when it comes to 4 x 4 payload capacity of 726 kg. The tailgate has 3 positions and when folded down provides additional load floor space, boosting the area to an impressive 80 x 45 inches. Tie hooks are strategically located for easy securing of your large gear, and LED lighting in the bed is a big help when it comes to working in hours of darkness.
Supreme driver confidence comes from a multitude of systems working in harmony – those looking to take their driving seriously should definitely add the LED lighting group, which is available on the Overland and Rubicon trims. Not only does it give the overall appearance a boost with signature LED reflector headlamps, LED daytime running lights, and LED tail lamps, but it also provides LED fog lamps that give exceptional visibility during less than ideal weather conditions.
There are 10 beautiful colors to choose from, giving you the choice to make your 2020 Jeep Gladiator uniquely yours. There are metallic and flat options available, some are discreet, and some are truly 'out there!" Available color options include: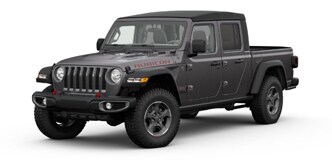 Granite Crystal Metallic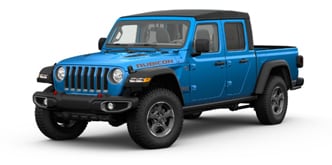 Hydro Blue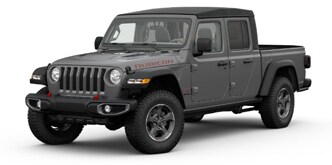 Sting-Grey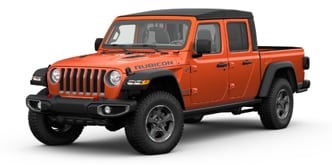 Punkn Metallic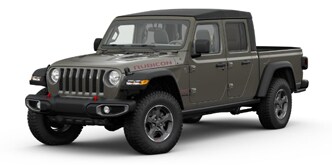 Gator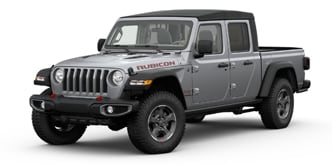 Billet Metallic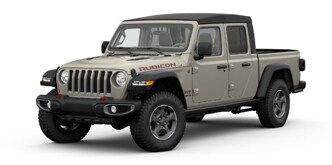 Gobi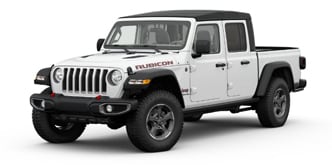 Bright White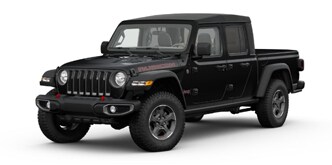 Black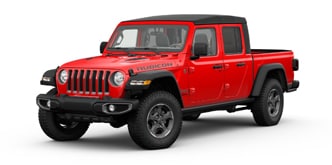 Firecracker Red
Aluminum wheels are another standard feature on the 2020 Gladiator, and there are 4 styles available depending on the trim you go for.

There's something to be said for a pickup truck that can go anywhere, do anything, and do it all in comfort and style; the interior of the 2020 Gladiator brings both of these in spades. The center stack pays homage to Jeeps of old while still remaining modern and functional.
This is, in fact, an award-winning interior. The 2020 Jeep Gladiator made the Wards list of the top ten interiors for 2019!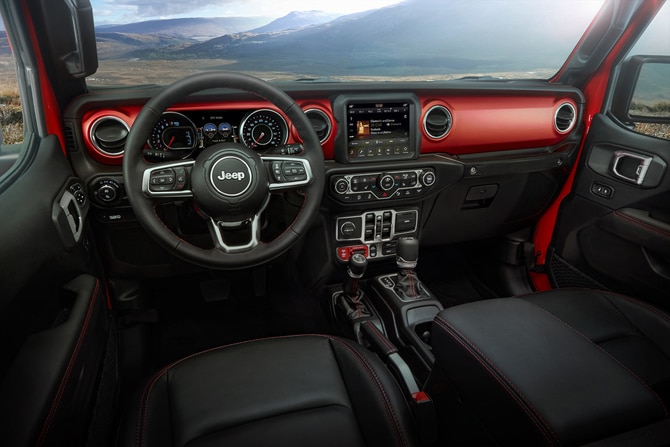 Of course, you'll find removable carpets; you can take these out in anticipation of getting dirty, and if you really get things muddy, removable drain plugs in the floor come in to play to let you rinse out the interior.
If you've been having fun with the roof and doors off, and you get caught in a downpour, you needn't worry, this is just the kind of situation the Gladiator is designed for! The major electronic components in the cabin have been weatherized for water resistance. Those electronics controls have been designed with one thing in mind – pure control, no matter the conditions. They are intuitively placed and structured for ease of use. This is all in aid of keeping your focus on what's happening out of the window while still allowing you to make changes to the cabin conditions.
As far as comfort goes, the Gladiator features a spacious cabin, with exceptional headroom, and best in class rear legroom.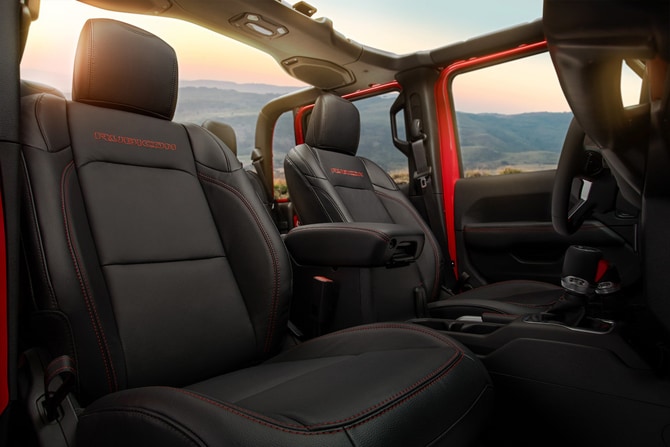 There are numerous interior upholstery options, and all are absolutely fantastic. Both cloth and leather are available, and depending on the trim you select, you'll get exclusive embroidery or embossing on the seats. Heated front seats are available, too, because nobody ever said adventure was only for the summer!
The extended cabin of the 2020 Gladiator has given Jeep some real inspiration to get clever when it comes to thinking of space and storage compartments in this new pickup truck.
There are cubbies stashed around the cabin to help keep your gear safe, secure, and out of sight. The doors feature mesh pockets rather than the plastic buckets you'd find on most pickups, this avoids dirt and water becoming trapped in them and helps you keep your truck in great shape. If you've got valuables that you need to leave in the car for any reason, both the glove box and center console are able to be locked, adding additional security, even if you've taken the roof and doors off.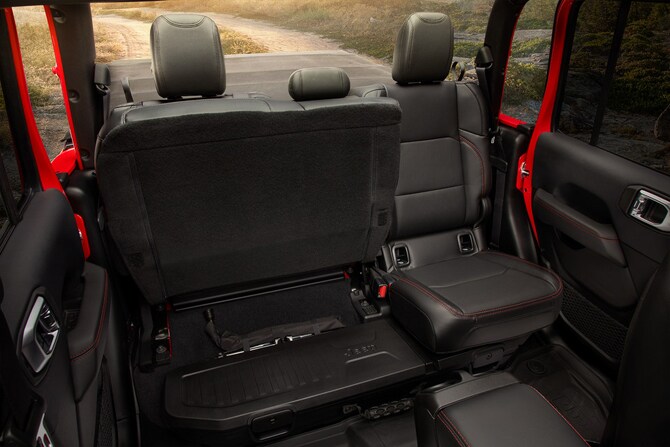 The Gladiator also gains standard storage behind the rear seat bench. It's big enough to accommodate large items like tablets and laptops. If you need more secure storage, there is additional available lockable rear under-seat storage, too.
There's no way that anybody can be disappointed by the entertainment tech, known in the trade as infotainment, on the 2020 Jeep Gladiator. Believe us when we say, there aren't many vehicles that can tackle terrain the way a Jeep Gladiator can, and yet still provide a world-class in-car entertainment experience.
No matter which
2020 Gladiator
you choose, you'll be more than happy with the entertainment experience. At the heart of it all is Jeep's phenomenal (and award-winning) Uconnect system. There are 3 different versions of this easy to use, yet powerful multimedia entertainment hub available on the '20 Gladiator. The standard is the 5-inch touch screen, with Bluetooth connectivity and Sirius XM satellite radio compatibility. If you'd prefer a bigger screen, Jeep has you covered.

The Gladiator can also be specified with a 7-inch touch screen display on models equipped with Uconnect 4. This screen is full color, and thanks to the pinch to zoom and swipe capabilities, it's as intuitive as using your smartphone. Uconnect 4 features Bluetooth connectivity, as well as Apple Car Play and Android Auto connectivity when paired with a compatible smartphone.
If you want bigger still, then the system for you is definitely going to be Uconnect 4C NAV. When you equip your 2020 Gladiator with this available system, you're getting a huge 8.4 inch touchscreen display that brings everything the 7-inch screen has and more, including premium navigation with audible turn by turn directions, beautiful 3D maps and the entire selection of Sirius XM features found in the Sirius XM Guardian system.
Sirius XM Guardian is a fully loaded suite of apps accessible via your compatible smartphone. You'll find both safety and convenience features that combine seamlessly to make your driving experience complete. Sirius XM Guardian offers roadside assistance, text messages or emails to alert you if your vehicle is broken into or stolen, and if your vehicle is taken, then stolen vehicle assistance is available via the app.
On the convenience side, the app facilitates remote start (from wherever you are in the world – as long as you have cell service or Wi-Fi). Imagine being able to warm up or cool down your car from your office, bedroom, or even the grocery store and have the climate just as you like it from the moment you step in. If you often find yourself in large parking lots, or you've parked out in the sticks, you can take advantage of the Gladiator's vehicle location function within the guardian app to help guide you right to the truck.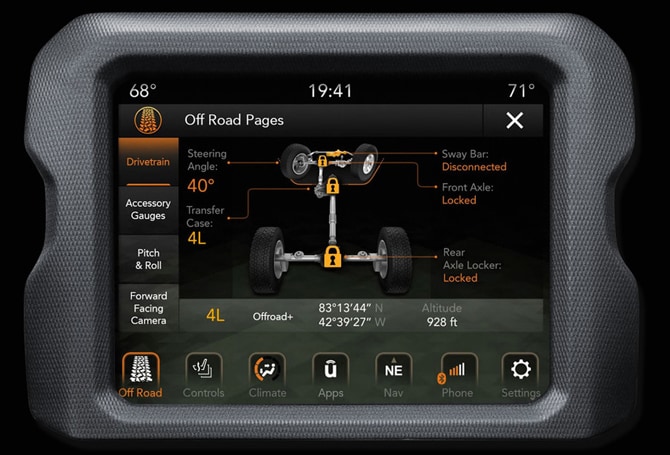 A serious off-road machine like this is, of course, going to have some high tech driver aids and information screens to keep you informed about what's happening with your 2020 Gladiator in real-time. Every Gladiator comes with a full-color gauge cluster, and there's also an available 7-inch customizable in-cluster display that provides all the info you'll ever need and more. You'll be able to scroll through the vital info like:
· Speed,
· Tire Pressure,
· Fuel Economy.
For those taking their off-roading seriously, the wealth of vehicle data is mind-blowing – you can opt to look at your transfer case status, pitch and roll, and many more off-roading statistics.
Whether you plan to use your
2020 Jeep Gladiator
as an off-road workhorse or a garage queen, you'll be pleased to know that it has the power and abilities, as well as the good looks to take care of both. If you're thinking that getting muddy is in your Gladiator's future (believe us, this truck wants it!), you're going to be blown away by its performance capabilities.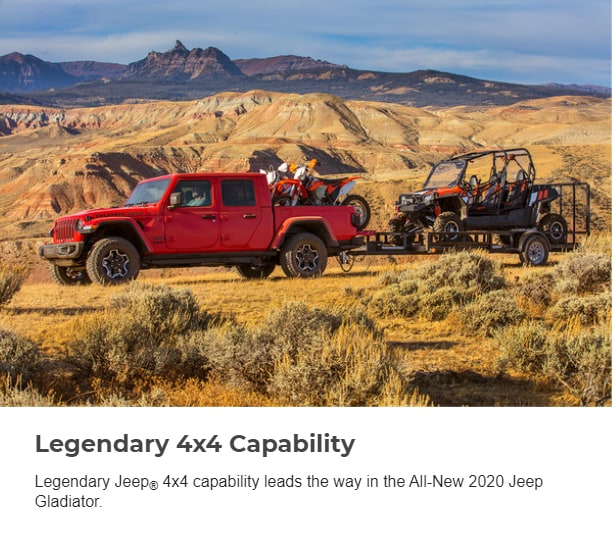 Every Gladiator is equipped with Canada's best selling engine, the excellent 3.6 litre Pentastar V6 with variable valve timing. It delivers a healthy 285 horsepower and torque is rated at 260 lb-ft. This is all the power you'll ever need to get out of (and into) the stickiest of situations. Not only is this engine powerful, but it's also thrifty too, delivering as much as 20 mpg city and 27 mpg on the highway. This is, of course, helped along by the standard engine stop-start system, a function that cuts out the engine when the vehicle is at rest and seamlessly starts up again after you remove your foot from the brake.
Paired with every Gladiator is a brilliant transmission. Two options are available on every trim, either the exceedingly capable 6-speed manual or the buttery smooth 8-speed auto. Both options provide incredible control, and it truly is just down to personal preference.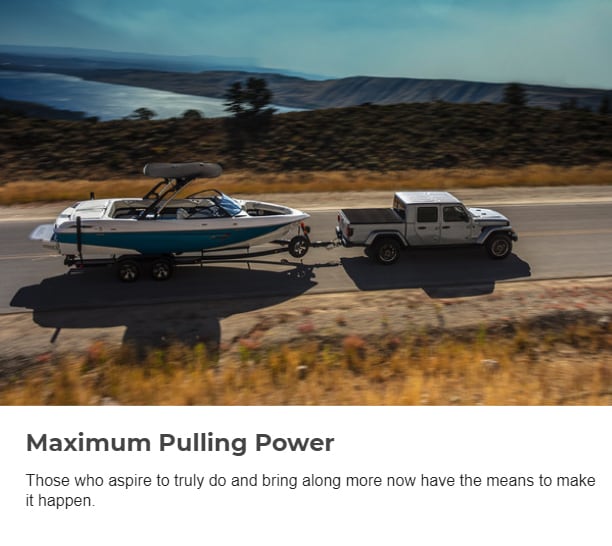 Every Gladiator is built from the ground up to tackle anything you throw at it, and central to this is the as standard 4 x 4 systems on every trim.
The base Gladiator Sport S and the Overland trims get Jeep's Command-Trac 4 x 4 setup. This system brings a 4 x 4 high range when you venture off of the road and onto loose surfaces. It allows the driver to change on the fly from 4 wheel drive to 2 wheel drive at speeds of up to 55 miles per hour. When you lock into 4 x 4 mode, the transfer case delivers an exact 50:50 split for the front and rear torque. When you're in four-low range you'll get all the low-speed grunt you need for tough terrain or big towing jobs thanks to the additional gear set providing a 2.72:1 ratio. The NV241 GII transfer case is robust enough to take anywhere, and the solid front and rear axles provide incredible reliability.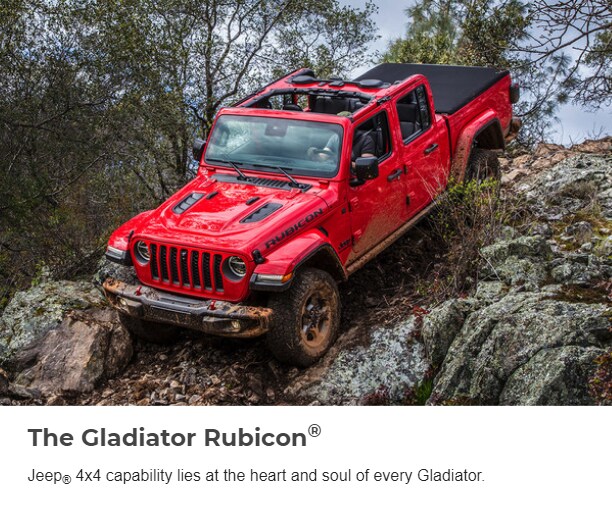 When you opt for the mighty Rubicon trim, you're getting the best of the best when it comes to off-road performance equipment. No other manufacturer can provide an off the shelf setup that's ready to take on such tough terrain as Jeep can with a Gladiator Rubicon. This is largely thanks to the flagship 4 x 4 system that comes with it – Rock-Trac. It features 4 x 4 high and low modes. As with Command-Trac, it gets on the fly 2 x 4 to 4 x 4 change abilities up to 55 mph. It gets a 73.1:1 crawl ratio with manual transmission for ultra-precise ½ mph crawling over rocks. Gladiator Rubicons get upgraded Dana 44 axles, both front, and rear, as well as a trick electronic sway bar disconnect system.
The 2020 Gladiator is a structurally safe vehicle, made even safer by Jeep's suite of electronic aids to assist and augment the driver's abilities.
New for 2020, the available TrailCam provides a low down, forward-facing view, allowing you to get a closer look at the trail ahead of you. It is mounted on the front grille and gives you a view you wouldn't ordinarily have, allowing you to avoid dangers in time to make a critical maneuver. In an industry first, this camera features a special clean button to clear mud from the lens and keep you going.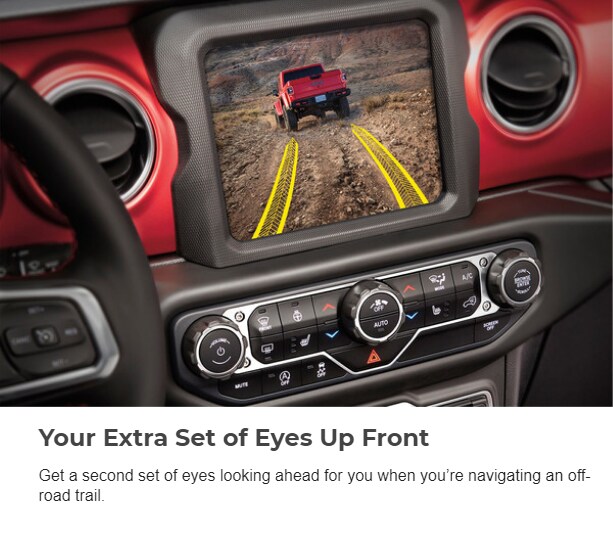 You can choose to add the available Blind Spot Monitoring and Cross Path Detection for improved safety on the roads. These systems use radar to watch what's happening in your rear blind spots and alert you if someone or something gets a little too close via a visual alert on your wing mirror and an audible alert in the cabin. The same radars are used in the available cross-path detection system, which scans for crossing hazards like cars and pedestrians when you're reversing.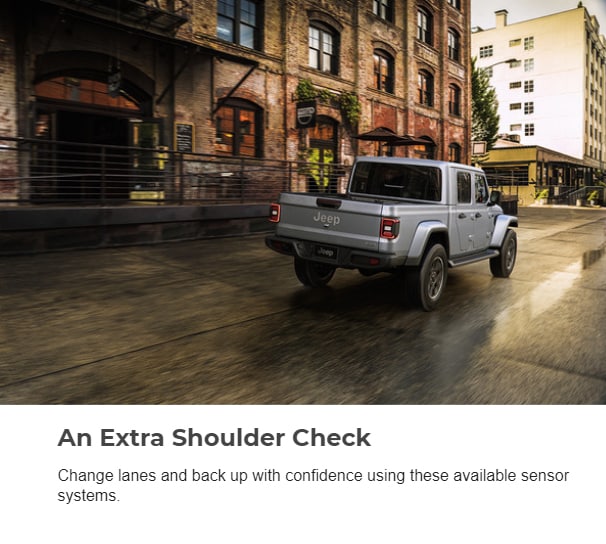 Forward Collision Warning with Active Braking is another active safety system able to assist in the prevention of accidents. Radar detects whether or not you're approaching an obstacle ahead of you too quickly, it will then issue a visual alert with 1.5 seconds of brake assistance. If the driver doesn't take enough action, or act quickly enough, the system will bring the vehicle to a complete stop to reduce the chances of impact.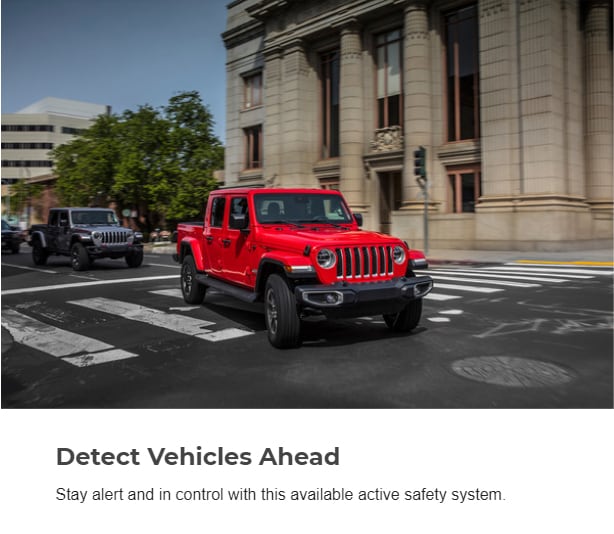 Adaptive Cruise Control uses the same forward-facing radar as the collision warning system to monitor the distance from the vehicle in front of you. It can then match the speed, brake, and accelerate accordingly to keep a safe distance. At low speeds the system will even bring your gladiator to a full stop in traffic.
The 2019 Jeep Gladiator is broken down into the Gladiator, and Gladiator Unlimited (Unlimited is the 4 door version), read on to find out more about the excellent features of each trim available on both iterations.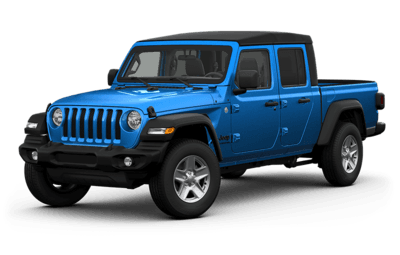 Sport S – Starting from $46,995
The Sport S trim is the entry-level Gladiator, but of course, it's far from entry-level when it comes to features. Some of the highlights include the excellent Uconnect 3 multimedia infotainment system, a black Sunrider Soft Top, black powered, heated, manual foldaway mirrors, and 17-inch aluminum wheels.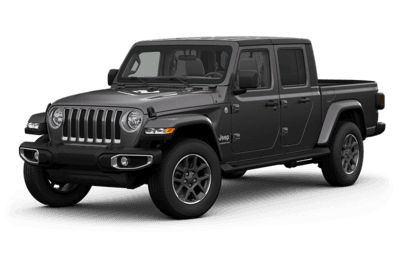 Overland – Starting from $50,995
The Overland trim adds some luxury, and builds upon the already fantastic Sport S with 18 inch Granite Crystal aluminum wheels, the upgraded Uconnect 4 infotainment system with a 7-inch touch screen display, Apple Carplay, and Android Auto connectivity, and a black Freedom Top 3 Piece hardtop.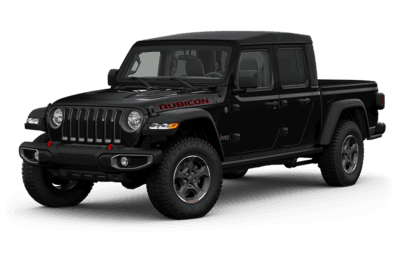 Rubicon – Starting from $53,995
The Rubicon is the flagship trim, and it brings a wealth of extra features, including the Rock-trac 4 x 4 system, Tru-Lock front, and rear axles, Off-Road Plus mode, and upgraded front and rear performance shock absorbers. On the interior, you'll get premium cloth bucket seats with an exclusive Rubicon logo and even rear compartment assist handles, helping even your rear passengers to enjoy the off-road experience.
?The team here at
Provincial Chrysler Dodge Jeep Ram
, your Jeep dealership Ontario, have very quickly fallen in love with the long-awaited
Jeep Gladiator
. It seems almost unfair to other manufacturers when you consider the sheer practicality combined with the raw ability of this model, and we're sure you're going to love it, too. No matter whether you're looking for a new or used Jeep, we can absolutely help. We have a great selection of brand new and pre-owned vehicles, for you to browse through.
We strongly encourage you to come down and see the new
2020 Jeep Gladiator
as soon as possible, they're simply flying off the lot and we want to make sure that you get a chance to own one as soon as possible. Give us a call to set up your test drive and one of our friendly team will walk you through the vehicle and all of its capabilities. No appointment? No problem! We love walk-ins too, just stop by any time and we'll still give you the VIP treatment.
View all our Jeep Gladiator trucks here


2020 Jeep Gladiator Sport S
Price: $55,230.00
Bodystyle: Truck Crew Cab
Int. Colour: Black
Engine: 3.6L Pentastar VVT V6 w/ESS
Odometer: 0
Transmission: 8-Speed Automatic
Stock #: 200003
Ext. Colour: Black
Vin: 1C6HJTAG2LL114136
CLICK FOR DETAILS


2020 Jeep Gladiator Rubicon
Price: $68,125.00
Bodystyle: Truck Crew Cab
Int. Colour: Dark Saddle/Black
Engine: 3.6L Pentastar VVT V6 w/ESS
Odometer: 0
Transmission: 8-Speed Automatic
Stock #: 200014
Ext. Colour: Bright White
Vin: 1C6JJTBG9LL117597
CLICK FOR DETAILS


2020 Jeep Gladiator Overland
Price: $69,279.00
Bodystyle: Truck Crew Cab
Int. Colour: Black
Engine: 3.6L Pentastar VVT V6 w/ESS
Odometer: 0
Transmission: 8-Speed Automatic
Stock #: 200018
Ext. Colour: Billet Silver Metallic
Vin: 1C6HJTFG8LL117521
CLICK FOR DETAILS


2020 Jeep Gladiator Rubicon Launch Edition
Price: $73,730.00
Bodystyle: Truck Crew Cab
Int. Colour: Black
Engine: 3.6L Pentastar VVT V6 w/ESS
Odometer: 0
Transmission: 8-Speed Automatic
Stock #: 200029
Ext. Colour: Bright White
Vin: 1C6JJTBG6LL139458
CLICK FOR DETAILS
2020 Jeep Gladiator Rubicon
Price: $73,730.00
Bodystyle: Truck Crew Cab
Int. Colour: Black
Engine: 3.6L Pentastar VVT V6 w/ESS
Odometer: 0
Transmission: 8-Speed Automatic
Stock #: 200028
Ext. Colour: Bright White
Vin: 1C6JJTBG8LL137064
CLICK FOR DETAILS