Provincial Chrysler Dodge Jeep Ram is the number one destination for Jeep Wranglers for salein Ontario. We are proud to serve the Windsor/Essex area, including Windsor ON, Tecumseh ON, Leamington ON, LaSalle ON, Amherstburg ON and beyond! Our team are dedicated to ensuring that you get the best vehicles, and the best service out there.
A big part of what makes our service so special is our commitment to keeping up with the fine detail of what's happening in the auto industry, and that's why today we are going to fill you in on the new and improved features of the already amazing Jeep Wrangler.
Whether you follow automotive news or not, we can almost guarantee that you've seen a big increase in the number of Jeep Wranglers on the road in recent years; this is no coincidence. Jeep have taken the phenomenally capable Wrangler, and refined it for every day use – no longer is it simply a utilitarian tool for those who like to get up to their eyeballs in mud at the weekend; now it's all that and more! Jeep have polished the interiors, and beefed up the electronics, and now the Wrangler is as at home on the school run as it is crawling over rocks in a desert.
For 2019 specifically, Jeep has provided a smorgasbord of upgrades, including aesthetic, performance and comfort based improvements. For example, one of the unique selling points of the Wrangler is the ability to remove the doors, giving a truly open air feel, for this year's model, Jeep have made the doors not only lighter, but easier to remove and put back on! This removes any feeling of intimidation that some may have had about utilizing this feature, and really adds to the appeal. Not only are the doors easier to remove, but Jeep have also made the wind shield easier to fold down, another win we'd say! On the inside, the seats have been completely redesigned, this has made them significantly more comfortable, and the Provincial Jeep team absolutely love them! They are incredibly supportive, and have available heating, and standard 2 way lumbar adjustment. Leg room is also improved for back seat passengers too.

Adding to the ease of use, the 2019 model get an improve soft top roof, which is an absolute cinch to fold down – you asked, Jeep listened! If you'd still rather avoid folding down a soft top, Jeep Canada have you covered with the new Sky One Touch power top roof. With the push of a button, this almost 90% length power roof slides back, revealing the sky in all of its glory, for a true open top driving experience.
The range of 2019 Wranglers get improved ground clearance for enhanced off road capabilities, letting you push the already staggering limits of this vehicle even further! This is bolstered by a superb 5 link suspension system and electro-hydraulic steering, giving you better flexibility on rocky trails, and a smoother experience on well surfaced roads, too. Even though the new Jeep Wrangler is in fact longer than the outgoing model, it retains the same tight turning circle, ensuring it excels in urban environments, as well as in the boondocks.
In the powertrain department, it is available with the new 2.0 liter turbocharged motor, which is good for 270 horsepower! Interestingly, this engine option is referred to as a 'mild hybrid', as it features a 48 volt electric motor, known as the eTorque system. It features regenerative braking, and even has the ability to add torque to the crankshaft for a boost when the going gets rough. For a smoother drive, the 2019 Jeep Wrangler comes with a choice of two new transmissions. You can opt for;
· A buttery smooth 8 speed automatic
· A rugged, yet precise 6 speed manual
Both are fantastic options, and whether you prefer the feel of a manual, or the convenience of an automatic, you won't be disappointed. On the 2019 Sahara trim models, you have the option of either the traditional part time 4 wheel drive drivetrain, or the all new, full time all wheel drive system.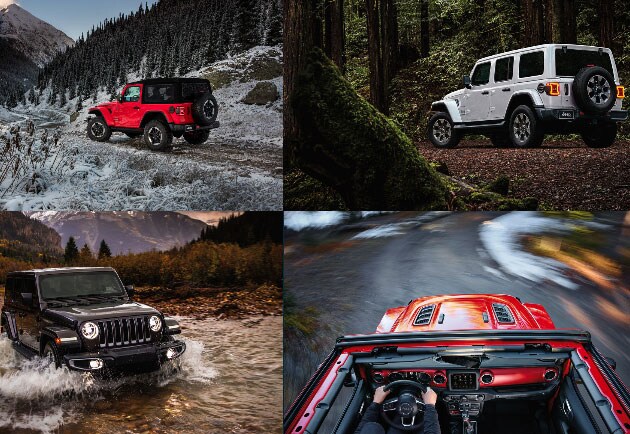 Thanks to some top tinkering by Jeep's engineers, they've managed to make the 2019 models even more economical – by tuning the 3.6 liter V6 Pentastar motor, the Jeep Wrangler now squeezes out even more miles to the gallon – just when we thought it couldn't possibly get any better!
For driver and passenger comfort, Jeep have put a lot of effort in to quietening the cabin noise, which is no mean feat in this category of off road performance oriented vehicles. Unlike Wranglers of old, the 2019 model offers available 7, and 8.3 inch touchscreen displays for in car entertainment and navigation.
Making sure that you have fun in complete safety, Jeep Canada have included available adaptive cruise control for 2019; this system uses sensors to effectively 'lock on' to the vehicle ahead of you – they speed up, you speed up – they slow down, you slow down, it's a very clever, and a very useful system to have!
Jeep enthusiasts know that the secret to a great new Wrangler is to ensure that the features that truly make it a Jeep are still there, no matter how many new bells and whistles are added – for 2019, you'll get all of these great new features we have highlighted today, and you'll still get the classic amenities such as the 7 slot grille, round headlights, trapezoidal arches, and the famous wash out interior amongst others!

The Jeep Wrangler always has been, and always will be, the go to SUV for those who actually want to take their car off road. The old adage says "don't mess with success", but Jeep ignored that, and somehow improved success! The 2019 model year, in stock now at Provincial Chrysler Dodge Jeep Ram, is without a doubt, the best Jeep Wrangler to date – and this is a proven fact, after all, you don't win a Motortrend SUV of theYear award for nothing! We definitely agree that reading a Jeep Wrangler review is a great start, but to really appreciate it, you've got to see it in person, so consider this an invite! Come on down to Provincial Chrysler Dodge Jeep Ram and see what all the fuss is about!