Welcome to Provincial Chrysler Dodge Jeep Ram. We are so glad you've joined us – we have a full range of Jeep Canada vehicles for sale including the incomparable Jeep Wrangler. You might have heard the news that the Jeep Wrangler has been given the prestigious honor of being named Motortrend's SUV of the year for 2019.
We're proud to stock this model, and today we want to celebrate this venerable member of the Jeep line up with you! We're going to highlight some of the excellent features that made this the obvious choice for Motortrend's judges.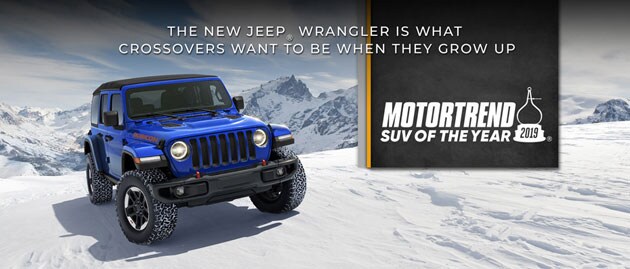 First of all, let's just soak it in, that legendary design – tracing its roots all the way back to the 1941 Willys MB, which picked up the nickname 'Jeep' during World War II, a play on the moniker of 'General Purpose Vehicle', or GP, for short – and the rest is history. It was released in various iterations over the following decades, but it never received the name 'Wrangler' until the 1987 model, and the name, evidently, stuck!
Throughout its existence, the Jeep Wrangler has been an off road monster, designed as an all terrain vehicle that also has great road going capabilities too. The 2019 model definitely excels both on and off the blacktop, particularly in the flagship Rubicon trim, so, let's take a look at exactly how Jeep have given the new Jeep Wrangler its extraordinary talents.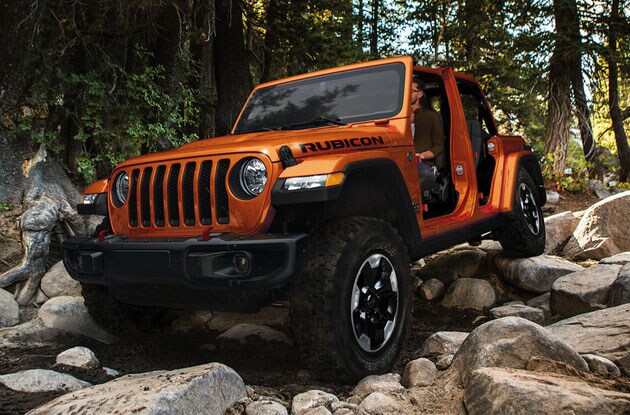 The 2019 Jeep Wrangler Rubicon comes as standard with the incredible Rock – Trak 4 x 4 system for unmatched torque and control on almost any terrain you care to place it on. The 4:1 low gear ratio allows for real low speed crawling with superior torque at the wheels than other systems. To assist you in tackling obstacles, the Wrangler has superb ground clearance, and has a removable sway bar, allowing insane amounts of wheel travel and articulation! Fording water comes easy to the Jeep Wrangler, and because it's trail rated, you can drive through with confidence knowing that your electricals and openings are sealed, and your air intake is mounted higher in order to protect vital systems from water damage.
On the inside, the impressive performance continues – the plush cabin is a significant upgrade on previous generations. Effortlessly stylish, yet authentically rugged, the 2019 Jeep Wrangler's interior perfectly represents what this award winning SUV is all about. The center stack is heritage inspired with clean lines that beautifully accent the dashboard.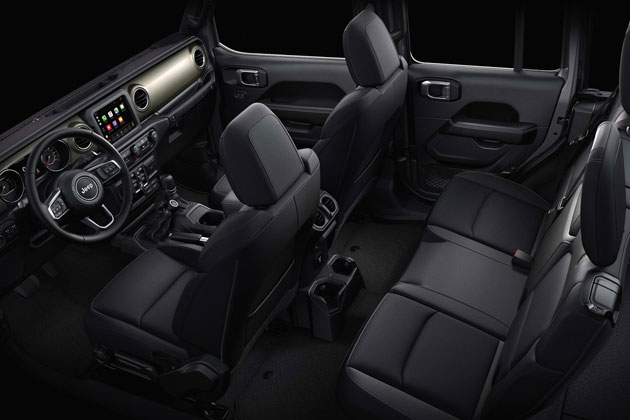 The seats are all new, and boy, what a difference! There are premium cloths and supple leather hides to choose from, and the addition of standard 2 way lumbar support goes a long way to customizing the comfort levels. Sahara and Rubicon trims can be ordered with stunning heritage tan leather faced seats, which include accent stitching as well as an embroidered logo.
Of course, it's not a real Jeep Wrangler if you can't wash it out, so, it goes without saying that the 2019 model has this capability thanks to the standard removable carpets and one way drain plugs.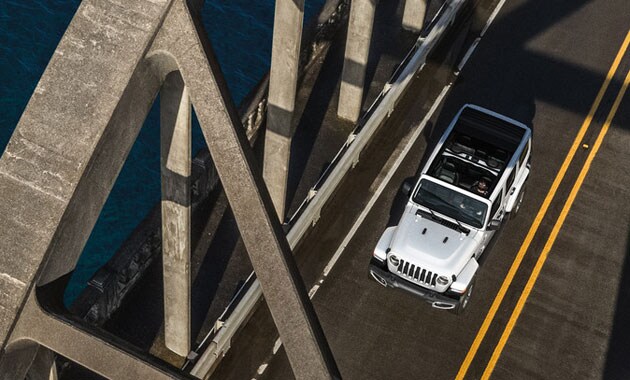 One of the key features of the Jeep Wrangler that sets it apart from other SUVs on the market is its unique convertible attributes. The ability to remove the doors and roof, as well as the ability to fold down the wind shield give the Jeep a real edge on the competition, and trust us, there's no experience one four wheels that's quite like driving a Wrangler in the open air mode! A true sense of freedom, that thanks to 2019's updates, is easier than ever to achieve – this year's doors are lighter and easier to remove, the windshield is easier to fold down, and the new folding roof system is the simplest it's ever been – and if folding down a rag top isn't your idea of fun, the available Sky One Touch sliding roof opens up with the touch of a button to speed up your access to open air fun. The best part – you can enjoy all of this without having to worry about things like the push button start or the available rear subwoofer getting damaged in inclement conditions, as they are of course, weather resistant.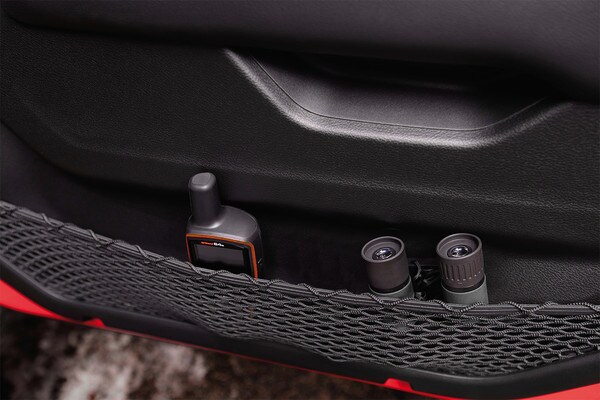 Interior cargo storage areas have even been designed with messy fun in mind – rather than fixed, difficult to clean plastic door bins, Jeep have fitted bungee mesh pockets, ideal for keeping small items secure while you're on the road or on the trail, and they're not going to collect mud and dirt too. It's subtle touches like this that add up to make the Wrangler undeniably excellent.
Jeep have been careful not to overload the 2019 Jeep Wrangler with unnecessary gadgets and gizmos, as they can distract from the driving experience – that's not to say, however, that it doesn't have its fair share of useful toys! Starting with the available 7 inch customizable, in cluster display (standard on Sahara and Rubicon trims), a feature that allows the driver to browse real time vehicle performance data, such as speed, tire pressure and fuel economy by use of a steering wheel mounted button.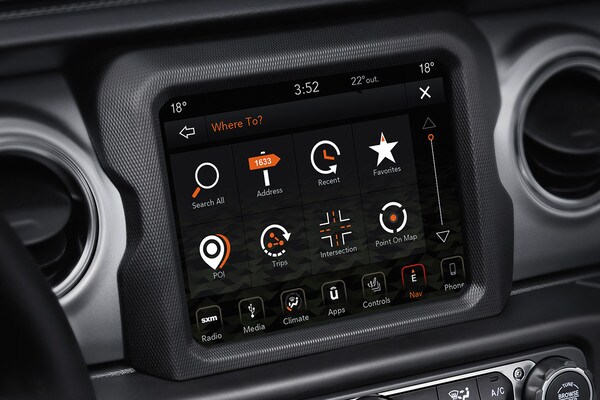 The Uconnect systems being fitted to the current generation Jeeps are making waves, and of course they are present the 2019 Wrangler too. The available 7 and 8.4 inch touch screen displays are from the 4th generation of Uconnect systems, and feature Apple Car Play and Android Auto smart phone connectivity, as well as Sirius XM satellite radio – and the cherry on top is the complimentary one year subscription to Sirius XM. If you opt for the Uconnect 4C NAV, not only will you get that huge 8.4 inch display, but you'll also get premium GPS navigation with 3D maps and lane guidance.
At Provincial Jeep, we are super enthusiastic about this awesome new SUV, and we think you will be too! Motortrend saw fit to award the Wrangler their 2019 SUV of the year award and after reading this Jeep Wrangler Review we'd like to think you can see exactly why! If now, more than ever, you think this is the SUV for you, then you should definitely come and check out our stock in person – after all, there's no better way to experience a new car than to test drive it! Call ahead for an appointment or feel free to just drop in at your leisure - our team will gladly tell you everything you need to know!