Hello everybody, welcome to
Provincial Chrysler
, Windsor's favorite destination for
Jeep Cherokee for sale in Ontario
. We don't only cater to
Windsor
, though; we proudly assist
Tecumseh ON
,
Leamington ON
,
LaSalle ON
,
Amherstburg ON
, the rest of the Windsor/Essex area and beyond! The Chrysler Windsor team have put together a blog to try and keep you, our customers fully up to date with everything that's happening and all the latest news from the Fiat Chrysler Automobiles family of brands.
The aim of today's post is to bring you up to speed with the latest additions to the new
Jeep Grand Cherokee 2019
model. But before rushing into the new features of the 2019 model, we think it's important to talk you through the journey of how the
Grand Cherokee
got to where it is today.
The
Jeep Grand Cherokee
was first launched in 1993, after much fanfare at the 1992 Detroit Auto Show. It burst on to the scene (literally); Jeep's marketing team drove it through a sheet of glass on to its stand at the show and was the first insight as to the impact it would make in the luxury SUV segment for the years to come. Upon launch, it came in three different trims (quite the difference from the 11 trims available today!); the trims were SE, Laredo, and Limited. It was revolutionary at the time for safety, as it introduced the age of the driver's side impact airbag, as well as an anti-lock braking system on all four wheels.
Considered the height of luxury in its day, the
Grand Cherokee
of 1993 would feel incredibly basic by today's standards, with only the limited trim offering leather upholstery. Back then, power was provided by a 4.0-litre straight six-cylinder engine, or a 5.3-litre V8, with power maxing out at 200 horsepower, which seems small compared to modern Grand Cherokee's, but it was enough to outclass the competition of the day. The first generation went through to 1998 before making way for Mark II.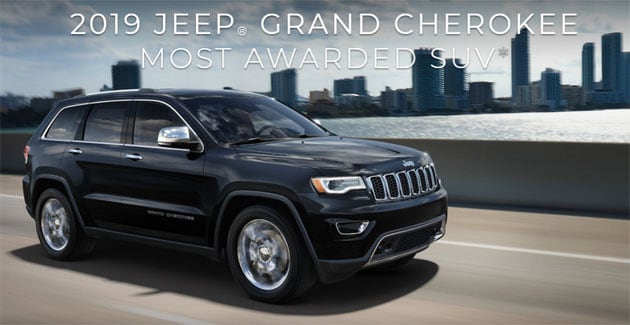 The second-generation Jeep Grand Cherokee redesign was significant, both in terms of design and powertrain. For example, the second generation Limited trim got a 5.9-litre V8 with 245 horsepower and 346 lb-ft of torque – it had sub 8 second 0-60 acceleration, which incidentally made it the world's fastest SUV at the time – a subtle nod to where things would lead with today's version (the 2019 Jeep Grand Cherokee Trackhawk is currently the world's most powerful SUV). As far as the change in design went, it shared as few as 127 components with the original model, making it way more than a facelift.
The second generation also introduced us to the Jeep Quadra-Drive system (the forefather of today's Quadra Trac system), this was the revolutionary tech that shifted torque to where it was actually needed if any wheel was detected to be spinning at a faster than normal rate.
The third-generation Jeep Grand Cherokee redesign was introduced in 2005 and had a 5-year run. It debuted at the 2004 New York international auto show and introduced us to the Quadra Drive II 4 x 4 system, as well as premium and luxury features never seen in the Jeep Grand Cherokee Line up like a rear-seat DVD player. The available powertrains were updated, too, with a 3.7-litre V6, a 4.7 litre V8, or a 5.7litre HEMI V8 being the available options. Handling was improved with new front suspension, in fact, an advanced independent double-wishbone setup was used. In 2006 an SRT version was introduced, making use of a 6.1-litre HEMI V8; it put out 420 horsepower and 420 lb-ft of torque, and it truly paved the way for today's monster SRT models.
The current generation has been in production since 2010 (although because it went on sale late in the year, it was sold as a 2011 model). Even as time marched on, the Jeep Grand Cherokee has remained recognizable at a glance, which is a testament to the branding work done over the years. As with previous versions, the new Jeep Grand Cherokee is, of course, an award winner it is, in fact, the most awarded SUV ever. These awards have been presented for design, best buy, and most importantly top safety pick.
The 2019 Grand Cherokee, like those that came before it is built on a steel unibody chassis, although it differs in that it actually boasts 4 wheel independent suspension (something never previously equipped on a Grand Cherokee).
The Grand Cherokee has never been offered in as many trim variants at any one time as it is in the 2019 model. With 11 to choose from, you're definitely going to find something to suit your needs.
One of the trims is a limited edition, and is actually new for the 2019 model year – ladies and gents; the Limited X.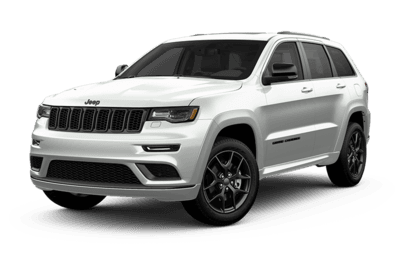 The Limited X is ideal for anyone looking for the sportiest aesthetics possible but perhaps doesn't want to go for the performance models. It boasts many of the same exterior design features as its big brothers, the SRT and the Trackhawk, so you can rest assured that it'll turn heads! It gets a standard sport hood, with enormous air channeling scoops, and 20-inch aluminum wheels finished in Granite Crystal. The Limited X shines brightly no matter the lighting conditions thanks to the standard Bi Xenon High-Intensity Discharge headlamps.

Colors available for the Limited X include:
•
Diamond Black Crystal Pearl.
Power comes from either the standard 3.6 litre Pentastar V6, or the optional 5.7- litre HEMI V8. No matter which you choose, you'll get excellent power, and plenty of torque, with up to 7200 lb maximum for towing. Even fuel economy is great on both motors, with electronic stop-start functionality available, as well as fuel saver technology, which allows the V8 to shut down cylinders to reduce fuel consumption when power demand is low.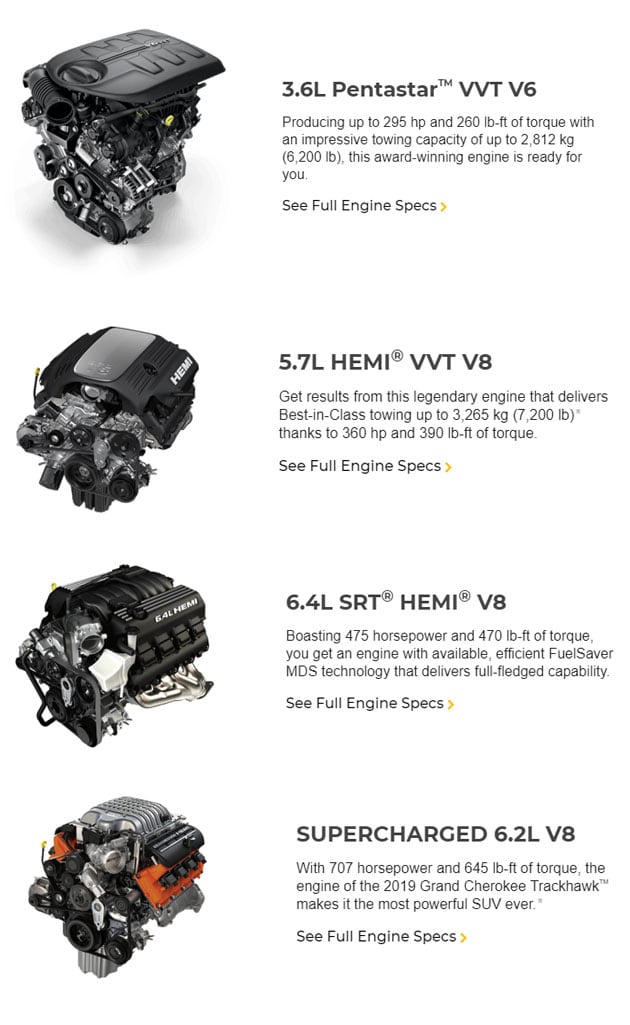 The interior is clad in supple leather, and it can be ordered with the incredible Command View dual-pane, panoramic sunroof.
Other new features that are new to the 2019 Jeep Grand Cherokee redesign are mainly safety and convenience related.
On the safety side of things, new for 2019 is the addition of standard Blind Spot Monitoring and standard Rear Cross-Traffic Assist.
•
Blind Spot Monitoring
uses radar in the rear quarters of the
2019 Jeep Grand Cherokee
to detect the presence of other vehicles entering your blind spots. In the event that someone is in your blind spot, you'll get a visual alert, and if you indicate toward the threat with a turn signal, you'll also get an audible alert, too.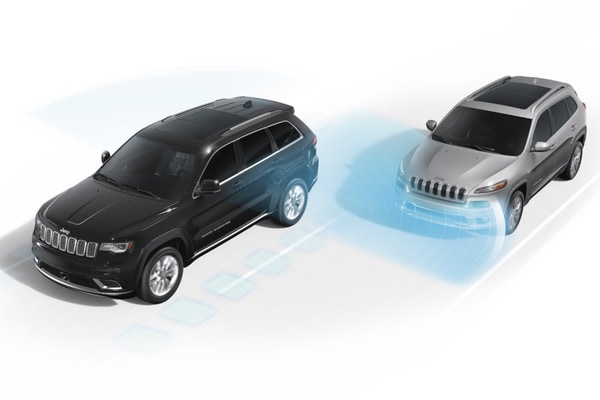 ?•
Rear Cross Path Detection
also uses rear-mounted radar to detect the presence of other vehicles, but in this case, the radar is searching for crossing threats whenever the reverse gear is engaged. Should a threat be detected, you'll get a visual and audible alarm prompting you to take action.
These features have been available as standard on some trims and as optional extras prior to now, but 2019 marks the first model year in which they have been a standard feature on the entire Jeep Grand Cherokee line up.
Lastly, new for 2019 is standard Apple Carplay and Android Auto across the entire line up of
2019 Jeep Grand Cherokee
models.
Both are plug and play systems that provide the user with a familiar interface when paired with a compatible smartphone. They can be used to safely listen to and respond verbally to text messages, navigate using your phone's nav system, play music, and much, much more. The simplicity of these systems and the fact that they practically mirror your phone's display means that they are a breeze to use, and take almost no time to learn, meaning if you want to try and change something when you're on the road, you don't have to take your eyes off the road to navigate an unfamiliar menu – better yet, you could use your favorite smartphone voice assistant to do it for you, right through your
Jeep Grand Cherokee's
speaker system.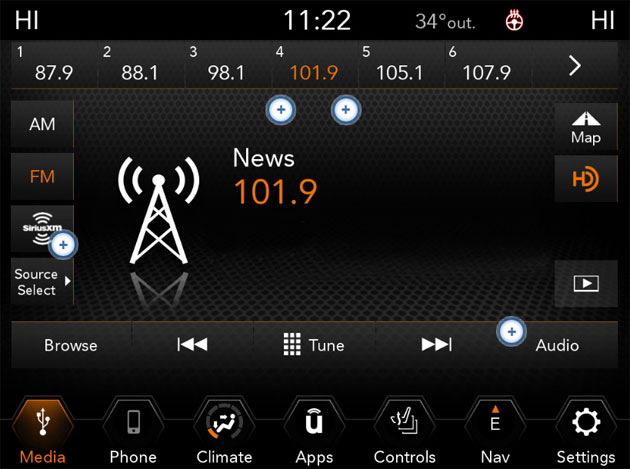 We hope that this has given you some insight into what's new with the New
Jeep Grand Cherokee 2019
.
Provincial Chrysler Windsor
really believes that this is the best version yet, and it's quality additions like the ones they just made for 2019 that make this SUV keep improving year on year. While 2019 didn't see a big J
eep Grand Cherokee
redesign for 2019, there were some solid additions to an already great SUV. So, if you're looking for a
Jeep Cherokee for sale Ontario
, or a
Grand Cherokee
, come on down to
Provincial Chrysler in Windsor Ontario
. We're located at 1001 Provincial Road, Windsor, ON, and we are Windsor's only full line dealer of
Chrysler
,
Dodge
,
Jeep
,
RAM
, and
FIAT
vehicles. We have the new
Jeep Grand Cherokee 2019
in stock and ready to pass on to you! Call ahead to set up your viewing and test drive, or swing in any time – we love drop-ins! We truly hope to meet you soon to show you what the
2019 Grand Cherokee
can really do!
---
SEE ALL OUR IN-STOCK
JEEP CHEROKEE'S FOR SALE IN WINDSOR
---
Here is just a sample of our in-stock Jeep Grand Cherokee inventory



2019 Jeep Grand Cherokee Altitude Windsor Best Jeep Deals
Price: $43,017.00
Bodystyle: SUV
Int. Colour: Black
Engine: 3.6L Pentastar VVT V6 w/ESS
Odometer: 0
Transmission: 8-Speed TorqueFlite Automatic
Stock #: 191105
Ext. Colour: Billet Metallic
Vin: 1C4RJFAG8KC813090
CLICK FOR DETAILS


2019 Jeep Grand Cherokee Altitude Windsor Jeep Specialiist Provincial Chrys
Price: $41,963.00
Bodystyle: SUV
Int. Colour: Black
Engine: 3.6L Pentastar VVT V6 w/ESS
Odometer: 0
Transmission: 8-Speed TorqueFlite Automatic
Stock #: 191116
Ext. Colour: Billet Metallic
Vin: 1C4RJFAG0KC822480
CLICK FOR DETAILS
2019 Jeep New Cherokee Trailhawk
Price: $34,778.00
Bodystyle: SUV
Int. Colour: Black
Engine: 3.2L Pentastar VVT V6 w/ESS
Odometer: 0
Transmission: 9-Speed Automatic w/Active Drive II
Stock #: 191137
Ext. Colour: Billet Metallic
Vin: 1C4PJMBX1KD475553
CLICK FOR DETAILS


2019 Jeep New Cherokee North DEMO DEAL
Price: $38,849.00
Bodystyle: SUV
Int. Colour: Black/Black
Engine: 3.2L Pentastar VVT V6 w/ESS
Odometer: 0
Transmission: 9-Speed Automatic
Stock #: 190003D
Ext. Colour: Diamond Blk Crystal Prl
Vin: 1C4PJMCX9KD189321
CLICK FOR DETAILS


2019 Jeep Grand Cherokee Altitude Windsor Jeep Dealer Provincial Chrysler
Price: $43,017.00
Bodystyle: SUV
Int. Colour: Black
Engine: 3.6L Pentastar VVT V6 w/ESS
Odometer: 0
Transmission: 8-Speed TorqueFlite Automatic
Stock #: 191169
Ext. Colour: Billet Metallic
Vin: 1C4RJFAG1KC823685
CLICK FOR DETAILS


2019 Jeep Grand Cherokee Altitude Windsor Jeep Dealer Provincial Chrysler
Price: $42,910.00
Bodystyle: SUV
Int. Colour: Black
Engine: 3.6L Pentastar VVT V6 w/ESS
Odometer: 0
Transmission: 8-Speed TorqueFlite Automatic
Stock #: 191182
Ext. Colour: Velvet Red Pearl
Vin: 1C4RJFAG0KC823709
CLICK FOR DETAILS
2019 Jeep New Cherokee Trailhawk
Price: Please Call
Bodystyle: SUV
Int. Colour: Black
Engine: 3.2L Pentastar VVT V6 w/ESS
Odometer: 0
Transmission: 9-Speed Automatic w/Active Drive II
Stock #: 191386
Ext. Colour: Granite Crystal Metallic
Vin: 1C4PJMBX9KD475557
CLICK FOR DETAILS


2019 Jeep Cherokee Trailhawk
Price: $35,985.00
Bodystyle: SUV
Int. Colour: Black
Engine: Pentastar 3.2L V6 VVT
Odometer: 5100
Transmission: 9-Speed Automatic
Stock #: 022100B
Ext. Colour: Black
Vin: 1C4PJMBX6KD274277
CLICK FOR DETAILS


2019 Jeep Grand Cherokee Limited X 4x4
Price: Please Call
Bodystyle: SUV
Int. Colour: Black
Engine: V-6 cyl
Odometer: 0
Transmission: 8 speed automatic
Stock #: 022121
Ext. Colour: Black
Vin: 1C4RJFBG1KC783414
CLICK FOR DETAILS