Hello, and welcome everybody, to
Provincial Chrysler Dodge Jeep RAM
, your home in Windsor Ontario for the latest and greatest vehicles from the FCA family. We carry a selection of quality new and pre owned vehicles, including the all
new 2019 RAM 1500
models. Completely redesigned for the new model year, the
RAM 1500
has had some serious upgrades since last year, and today we're going to highlight what's changed, and how it improved the already fantastic
RAM 1500
.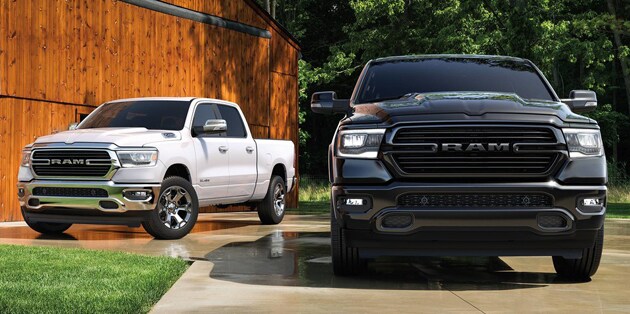 Exterior
The RAM 1500 got a serious exterior makeover. It's still unmistakably a RAM 1500, but has gained a sleeker look, while maintaining the rugged appearance this brand is known for. The sculpted lines have been redesigned to improve airflow around the truck, which improves aesthetics as well as fuel economy.
One of the most obvious updates is that the classic Dodge crosshair grille is gone, replaced by 'RAM' branding across the line up. In addition, the 'RAM 1500', and HEMI (where applicable) logos have been shifted from behind the front wheel arches right up on the to the front shoulders on the edges of the hood, and we think it looks phenomenal! Head lamps are now much narrower and mounted a little higher, and it's given the 2019 RAM 1500 a much sportier look.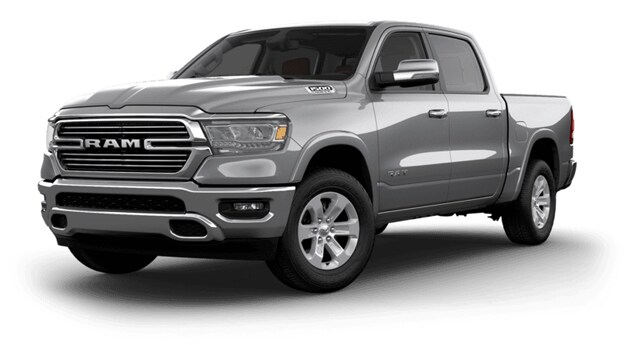 As with previous model years, each trim variant brings a unique look to the vehicle, and rightly so, there are lots of great options in this regard, from simple yet rugged plastics, through handsome chrome, and perfectly paired color coordinated trims.
One of the coolest new features of the 2019 model is the available, dual hinged 60:40 split tail gate. It can open in the traditional tail gate way, and in this mode, it can support up to 2000 pounds of weight, pretty impressive! But that's not all! It also has the capability to open outwards, 'barn door' style – this provides multiple benefits, including easier forklift loading, and easier access in to and out of the bed of the truck. RAM's unique design allows you to open the tail gate, even if you have a trailer hitched.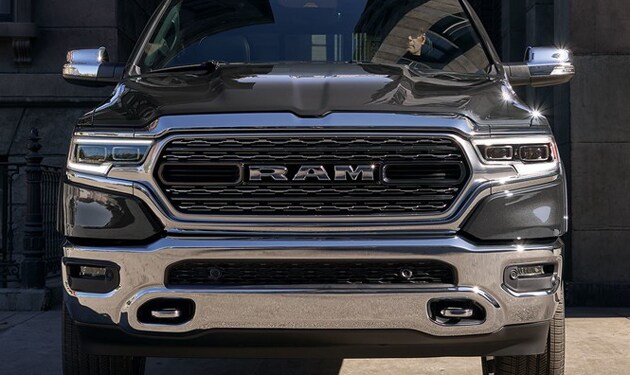 Critics have been raving about the handsome appearance of the new look, with the likes of Autotrader saying, "we think RAM got it right".
Interior
The refresh of the RAM 1500 wasn't limited to just the exterior, I fact the interior saw just as many major updates as the outside did, and once again, we think it's a huge improvement, and makes a big impact on the day to day driving comfort of this truck. You'll find the interior is much more modern, with plenty of high impact features.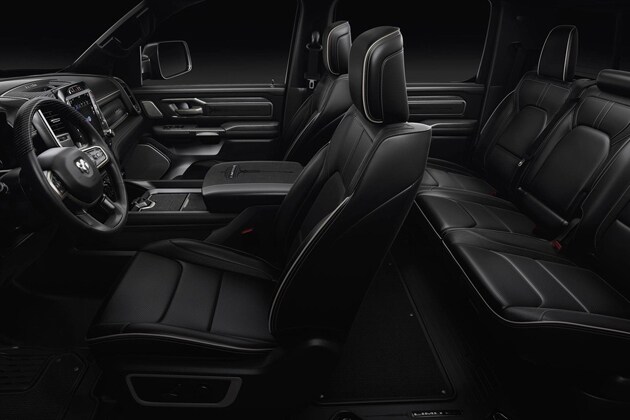 Not only did the interior get a makeover, it also grew too! The 2019 RAM 1500 crew cab actually benefits from increased interior space in 2019, and boasts best in class rear seat space. Headroom is improved, too, thanks to lower mounted seats.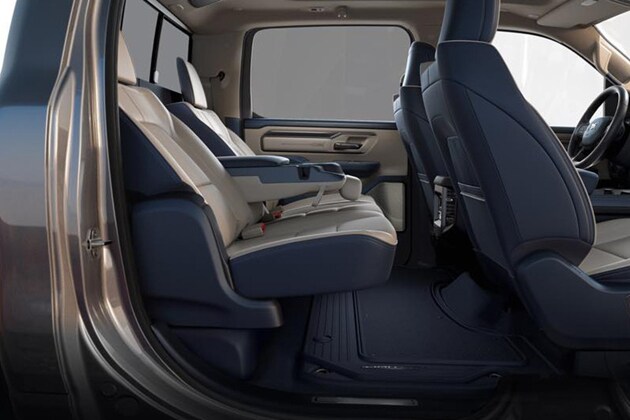 On higher trimmed models like the Laramie Longhorn and the Limited, 2019 saw the introduction of comfort features like reclining rear seats, another way RAM are showing that they recognize the needs of today's truck owner.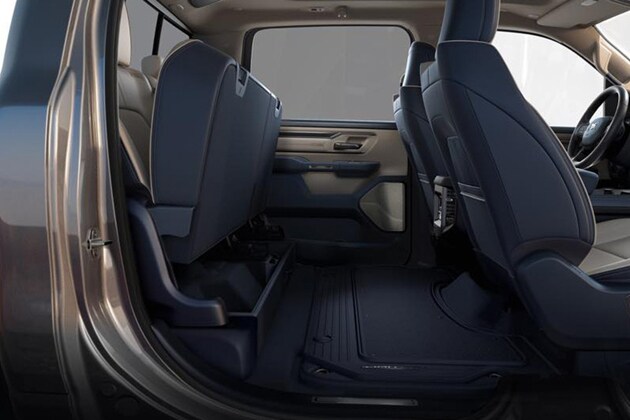 This year also saw the addition of some awesome (and ingenious!) storage units. In the rear, you'll find under seat compartments, Rambox cargo bins, and RAM bins mounted flush in the rear floor. Up front the center console became more dynamic, with customizable configurations
Performance
The current engine lineup has received some updates from last year, namely the eTorque mild hybrid system. eTorque actually replaces the RAM 1500's alternator; it makes use of an electric motor, an eight rib belt, and a sizeable battery pack to provide an additional 90 lb foot of torque on the V6, or 130 lb foot on the HEMI V8. This electric power comes faster than can be provided by the gasoline motor, so it's really a noticeable boost, and once the main engine is pulling hard, the eTorque system backs off. It really is an excellent feature and is a class exclusive. Not only does eTorque improve performance, it also improves fuel economy, another check in the 'No Compromises' list! It also features a DC converter to bring that 48 volts back down to 15 volts for powering the in cabin electricals.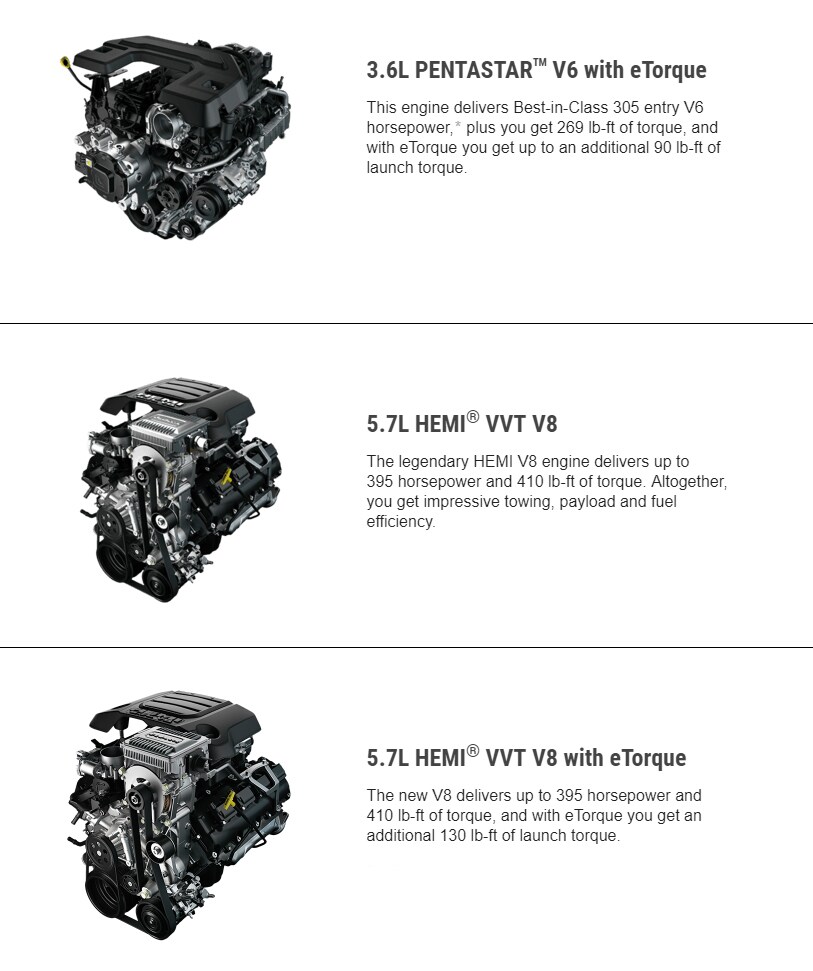 The all new grille actually hides some impressive performance tech too! For 2019, you'll find that the RAM 1500 features active grille shutters, a feature that helps to reduce the truck's wind resistance. In addition, an active front splitter deploys when the truck is going faster than 35 mph too, for better aerodynamic performance.
Tech Features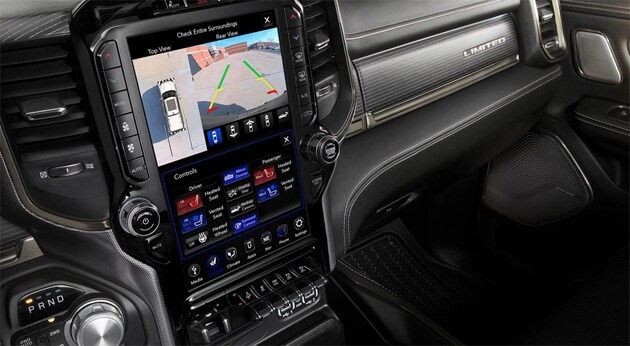 The RAM 1500's real party piece in 2019 is that showstopper big screen up front. This year is the first time it's been available, and that impressive 12 inch Uconnect touchscreen display is, as you might expect, the largest in its class. It can operate as a single display, and it also has a split screen function, allowing you to make best use of all that LED real estate.
2019 Also sees the introduction of some extra high tech safety features that weren't previously available – including available;
•
blind spot monitoring system, which is there to alert you if any other vehicle encroaches in to your blind spots;
•
Rear cross path detection, a feature that alerts the driver if any crossing dangers are approaching when reversing;
•
Trailer detection, a feature that automatically detects the length of whatever you're towing and accounts for it;
•
Lane departure warning with lane keep assist, a feature that alerts the driver if it detects the vehicle is drifting out of its lane, if no corrective action is taken, it automatically course corrects to avoid further drift;
•
Adaptive cruise control, a feature that uses sensors to detect the distance from and the speed of the car ahead, it effectively 'locks on' and maintains a set distance from that vehicle by automatically applying accelerator and brakes as necessary;
•
Parksense park assistance with 360 cameras, a feature that gives a birdseye view of the vehicle when parking to assist in detecting threats all around.

We are overall extremely impressed with the new safety suite that is available on the 2019 RAM 1500, and we are sure you will be too!
RAM Canada
are extremely proud of the all new
2019 RAM 1500
, it really is better than ever, and we're excited to be an authorized dealer so we can bring this excellent model to you! This year's truck is way more than a simple refresh, it really is a brand new truck from the inside out and the top down. So, if you're looking for a
RAM 1500 for sale in Ontario or Ram Lease Deals
, you should really come on down to
Provincial Chrysler Dodge Jeep Ram
, our awesome sales team will show you everything you need to know about this new version of the classic RAM half ton truck. Feel free to drop in, or call ahead to arrange an appointment – either way we'll get you hooked up with an appointment and show you exactly what's new with the 2019 RAM 1500 before getting you out on a test drive. Looking forward to seeing you soon!