Welcome to Provincial Chrysler Dodge JeepRAM, everyone! We are here to bring good news; the all new 2019 RAM 1500 pickup truck has won Motortrend's coveted 'Truck of the Year' award! This prestigious prize is only given to the absolute best of the best in each category, and the new RAM 1500 came out on top of some incredible competition to the take the honors. RAM trucks are no stranger to this award, with 2019 being the 6th time a RAM has collected it!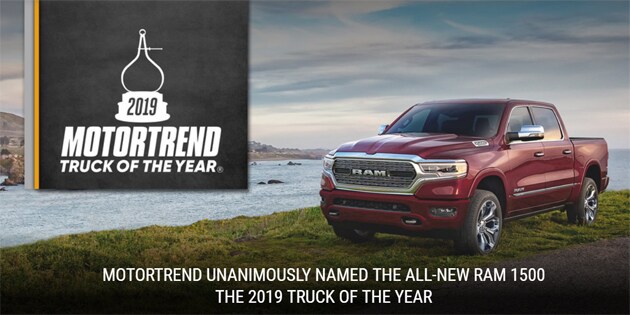 We couldn't be happier about this year's model, and it just so happens, that we have plenty in stock! Provincial Chrysler Dodge Jeep RAM have put together this 2019 RAM 1500 review to celebrate this incredible truck, and to help explain exactly what swayed the Motortrend judges.
Pickup trucks are such a dynamic vehicle choice, whether it's the school run you're using it for, towing a large fifth wheel RV, hauling tools or other industrial materials, they are right at home, and that's why Canadians love this category.
RAM trucks go back to 1981, so as a relative newcomer to the category, they have a lot to prove, and they do it so well
In an age of generic looking trucks and shared platforms, the RAM 1500 stands out in a big way. Despite the complete redesign for 2019, there's no doubt that it is still very RAM; no matter which of the multiple grille designs you go with, which of the 15 rims you choose from, which cab size or bed length, it's still the same iconic truck.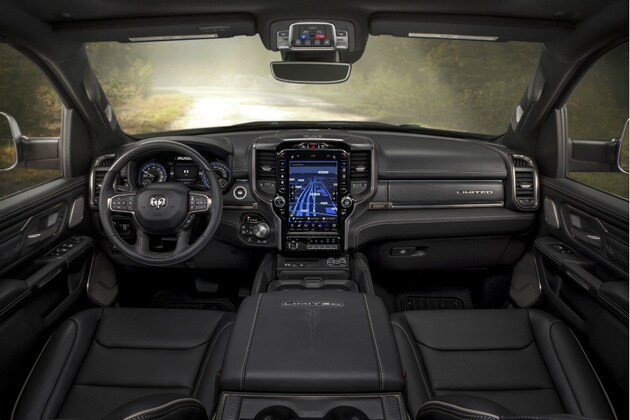 The interior of the 2019 RAM 1500 was one of the real wow factors for the Motortrend judges, just like the exterior, it got a real makeover from previous years! You'll find that even the utilitarian Tradesman trim got some extra creature comforts. The center console cross the board is absolutely enormous, with room for everything (even the kitchen sink!).
In cab tech impressed the critics too; the FCA Uconnect system shared across the family of companies shines in the RAM 1500, especially when presented in the form of the new 12 inch portrait mounted monitor, which just so happens to be the largest available in any half ton truck. Even if you opt for 8.4 inch monitor, it's still extremely impressive. The shift knob has been taken off the column, and transformed into a rotary knob, it adds a real modern touch, and cleans up the interior lines too.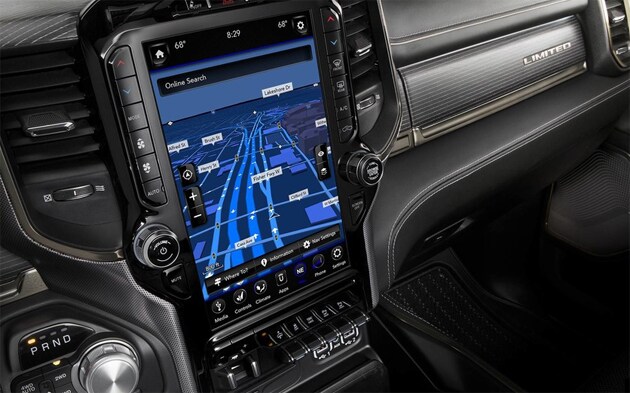 The rest of the interior cabin was given the once over this year, and it absolutely shows. Headroom is improved, as was overall space. One of the coolest features would definitely be the flat rear cab floor – it allows for the installation of the RamBins, which are hidden compartments tucked under the floor mats.
Higher trims feature upholstery so refined that it isn't just 'luxurious for a truck', it's luxurious full stop. There are available heated and cooled seats, not just up front, but also in the back. Not only that, but the rear seats even recline up to 8 degrees.
The quality of the interior fittings is also nothing short of spectacular – even from base models, you'll find high quality plastics, and on higher trims you'll get authentic touches such as real wood, top grain leather, and genuine stainless steel. If you're in to the western style, the Laramie Longhorn is the choice for you, with its earthy tones and Filigree embroidery and embossing, and if you like things a little more contemporary, the Limited trim is sure to impress.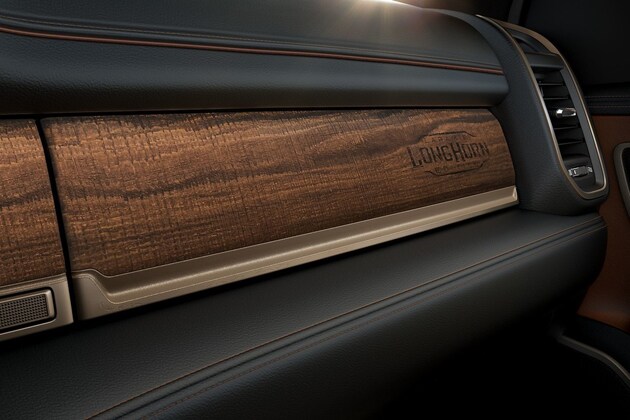 Some of the things that make the 2019 RAM 1500 worth of the 2019 Truck of the Year award are those that can't be immediately seen, but you'll benefit from in term of every day drivability and comfort. RAM constructed the 1500 around an all new high strength steel frame, it's been stretched by 4 inches, and yet is over 15% lighter than the outgoing structure. RAM have managed to avoid the use of weaker materials like aluminum in the bodywork like some competitors have, and yet still managed to shave around 225 pounds off the weight too, they've done this by clever use of lightweight materials elsewhere.
Suspension is top grade across the entire lineup, RAM continue to include coil spring rear shocks across the entire line up, while many other makers still use stone age leaf springs – additionally, available four corner air suspension ensures the finest possible ride on any truck, anywhere. The air suspension can be set to five individual height settings, and load leveling certainly helps the ride quality when hauling.
One of the real star qualities of the new RAM 1500 has to be the available eTorque equipped engines. eTorque is fitted as standard to the V6, and is available on the HEMI V8 too, and it's a truly astonishing development; it replaces the traditional alternator with an electric motor that provides extra torque before the combustion engine reaches peak levels, it is a real performance booster, and the activation is so smooth, you might never realize it was there. Not only is it a big performance booster, but because eTorque takes the strain off of the gas engine when it's out of its powerband, it also improves fuel economy – it is, after all, referred to as a 'mild hybrid' system.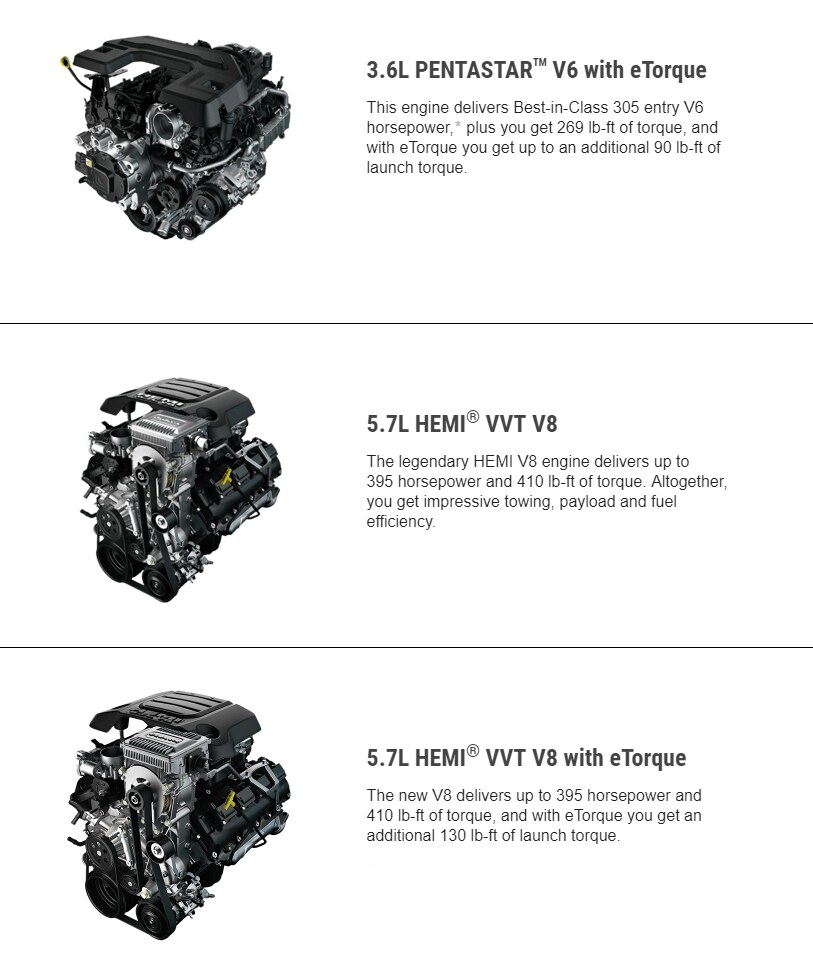 One of Motortrend's most important categories is safety, and this is another area of excellence for the 2019 RAM 1500. It picked up a 'Good' rating from the IIHS, which is the highest grade they award. In addition, the inclusion of available frontal collision warnings and rear cross path detection, as well as lane keep assist, and a 360 camera have given the 2019 model a big boost over previous years' models and other trucks on the market too.

This is truly an innovative truck, the upgrades have been way more than aesthetic, there have been material improvements to the already excellent RAM 1500 trucks, and this has put them ahead of the competition in more ways than one. Handsome design meets rugged dependability meets incredible performance. Motortrend had a large field to choose from, and this year's RAM 1500 emerged the clear winner.
Provincial Chrysler Dodge Jeep RAM are so proud to be an authorized RAM dealer in Windsor, Ontario. If you're looking for a RAM 1500 for sale in Ontario, we would absolutely love to help you get in to one! Whether it's for work or play, we know you'll absolutely love this model. We are big believers in seeing and touching a car for real to get a true sense of what it's about, and of course a test drive is the most important part. Reading a RAM 1500 review like this one is a great way to start, but consider this an official invitation to come and see us at our showroom, we are sure you'll be blown away by the RAM 155, Motortrend's 2019 Truck of the Year!
Call ahead for an appointment, or just drop in to the dealership, our helpful and knowledgeable sales team can't wait to help you!